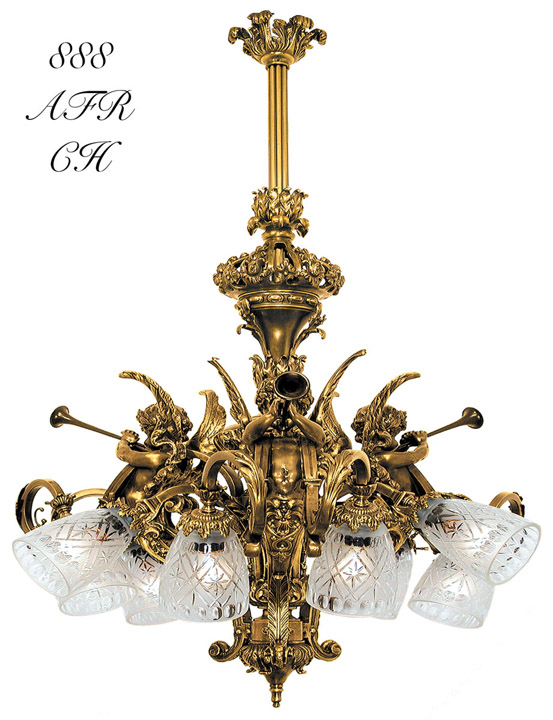 Normally we only recreate antique American lighting , but when something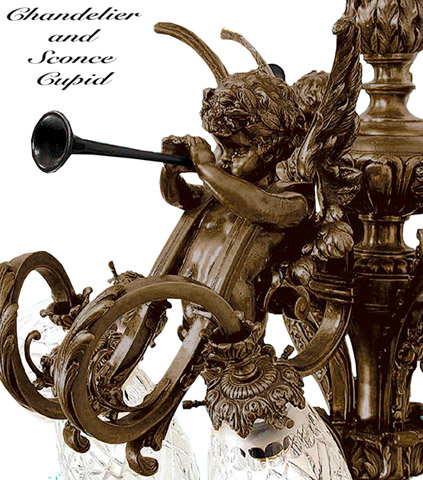 this unique comes along we simply cannot resist reproducing it. This is a reproduction of an early 20th century French 9-light chandelier. The cupids give a nice active fluidity to the fixture, and have very sweet faces. This fixture weighs in at an astounding 100 pounds of solid, lost wax cast, bronze and brass. Comes in a lovely antique finish, slightly darker than the photo appears.
Shades are sold separately. We know this was an original early electric light because the original shade fitters have a 2 1/4" diameter. To see the shades that are pictured with this fixture, click here: hand blown cut glass shade . We have an abundant selection of 2 1/4" glass shades that would fit and look wonderful with this fixture. This chandelier measures 28 1/2" wide by 60" tall, but we can shorten it for you down to 34" upon request. There are nine incandescent sockets which take bulbs up to 100 watts each.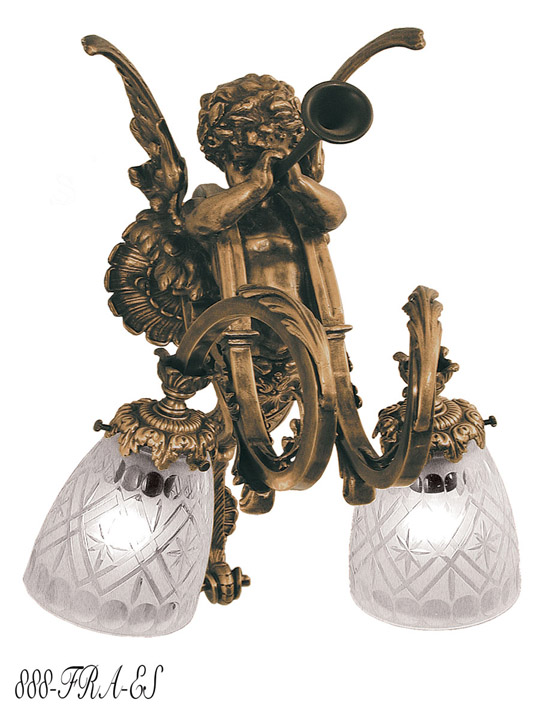 This cherub Sconce is great for a dramatic hallway, bathroom light or romantic

bedroom light. Paired with our cherub chandelier , it would create beautiful ambiance in the dining room, too. We are currently working on a four light pendant featuring two cherubs back to back, for smaller rooms.
We also offer a cherub newel post light , for a complete suite of Neo Rococo flair. A charming touch in any classical, rococo , Gothic, Victorian , or Edwardian decor.
Silicon Bronze is a durable finishing alloy added to our brass to make a sturdier metal for this lovely statue-like light. It was originally a wide flame gas light , so we've maintained the 4" size shade fitter.
You'll see this light in many movies portraying the gaslight era , as it was popular not only in wealthy homes, but also at saloons and hotels. Movie set designers and TV show set designers are some of our best customers!
These fixtures were usually wired in, and controlled by a wall switch. We can install an On/off switch on the base for an extra fee.
We also provide cherub doorbells , other cherub sconces , and decorative items, for wonderful impact.