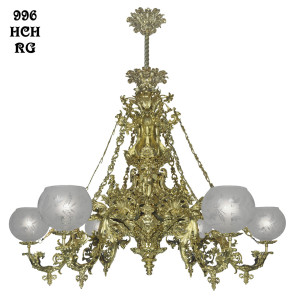 Not since 1840 has a magnificent Gasolier like this one been made. No expense was spared in its recreation. It's difficult to describe because it's so loaded and dripping with design and figures that it challenges description. But we'll try: Faces on the arms & shade fitters & gas keys & chain holders. Then cupids on the chains themselves & full body Grecian women figures between each arm.
The center has columns and vases with flowers. Flowers jump from the body of the light in every conceivable place, plus a few birds in addition to the Victorian scrolls and sweeps that are packed onto the light in great abundance. Talk about great
We attribute this wonderful light to Cornelius & Son, made about 1840, when chains on gasoliers were in vogue. Knowing about early gasoliers, this piece had to have been made for a very substantial dwelling or perhaps a CEO's office. It's one in a million! This jewel weighs in at 120 pounds of brass. Our opinion…best 6 light in America. Pair this chandelier with one of our genuine plaster medallions. Create an entire Neo-Rococo suite with the addition of one of our one-arm or two-arm wall sconces. We even carry Neo-Rococo newel post lights for your stairs or entry.