Our lead
crystal prism chandeliers
are timeless. Enjoy them in a Victorian home, or a contemporary formal dining or living space. A 21st century application is to have an elegant prism chandelier in the bedroom or master bath. The prisms multiply the light coming from the fixture, and the Oxley Giddings provenance (original manufacturer, circa 1870) guarantees a classic worthy of investment. In our showroom, natural sunlight coming through the cut glass prisms makes a colorful rainbow around the room, even when the lights of the chandelier aren't turned on.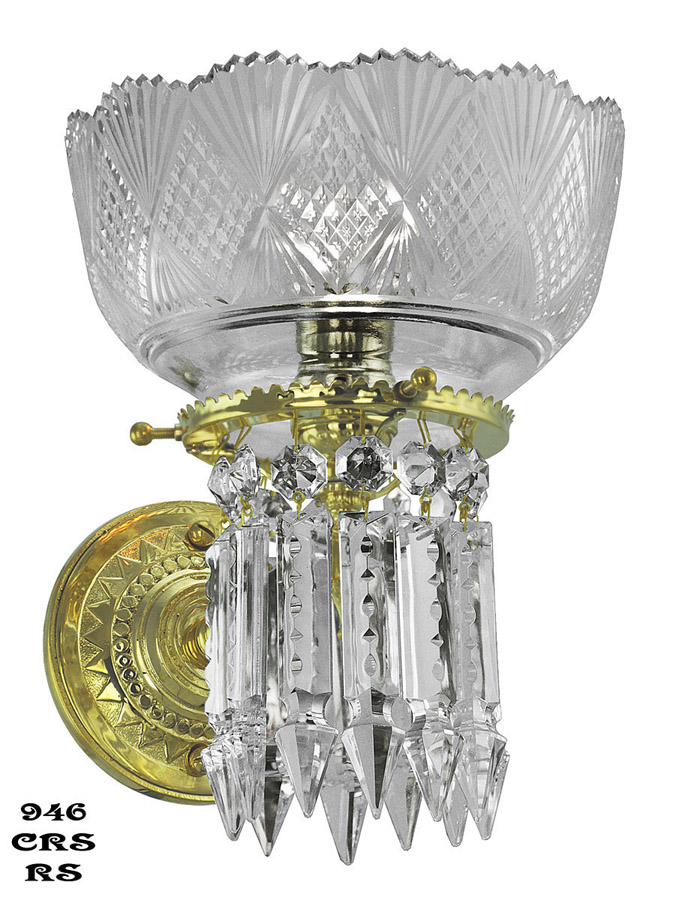 This single-light
crystal wall sconce
was designed by Oxley Giddings, fine craftsmen of the 1870's. Sought after by wealthy clients for their top quality lead crystal and craftsmanship, it was difficult to find originals for our provenance. We are proud to offer historically accurate reproductions for your home.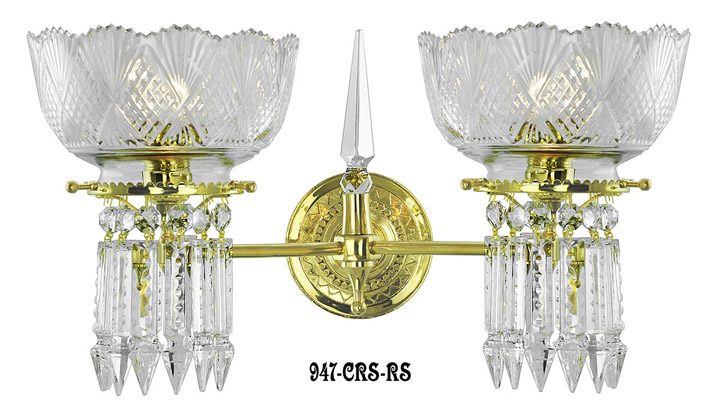 Oxley-Gidding was the first choice of wealthy clients around the world, for their estate, homes, and dramatic business sites such as exclusive hotel lobbies.. This
double crystal wall sconce
matches our beautiful Oxley-Giddings chandeliers. Bring your lighting down to eye level in hallways, next to the fireplace, or over the buffet with this gorgeous addition. We recommend the use of sconces in pairs. We think Oxley-Giddings would be proud of these highly detailed reproductions, also made of top quality brass and fine lead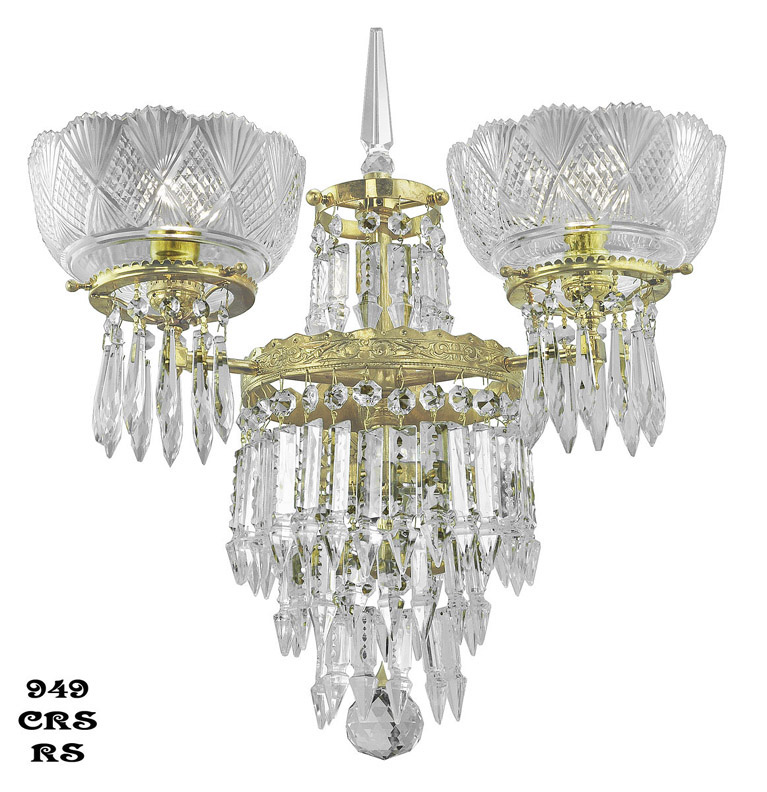 crystal. This
double crystal wall sconce
matches our beautiful chandeliers and this is the largest of our matching prism sconces. Note the additional row of crystals below, and focal crystal "finial" above. A swarovski crystal ball completes the bottom of this lovely sconce.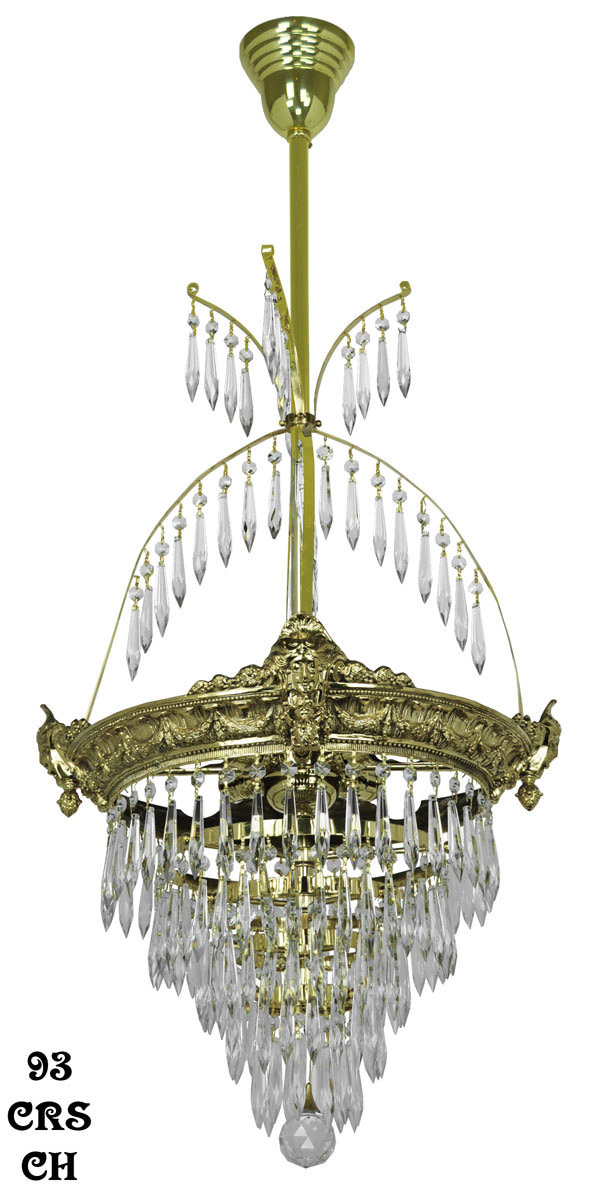 This empire style crystal chandelier is a spectacular vision for your entry, dining, or living room! Comes complete as shown, layered in crystal like a beautiful bride, to grace your home. Four sockets, up to 100 watts each, provide ample light. These reflect many times over in the layers of lead crystal prisms.
For grand scale dining rooms that have a 12-guest (or more) table, we recommend two chandeliers, one toward each end of the table. If you have very high ceiling, we have an extension kit to bring the chandelier down to a proper table height.
This chandelier is wonderful not only with Victorian and Edwardian decor , but also French Empire Revival , Renaissance Revival , Byzantine , Traditional , and all modern formal decors .
Due to popular demand, we now offer the Oxley Giddings in an antique finish, which works well with bronze and oil rubbed bronze home hardware. This sparkling crystal chandelier comes standard at 45" tall and a diameter of 34". It comes with a longer stem than is shown in the photo. There is a single tier of lights, with layer upon layer of crystals to add sparkle.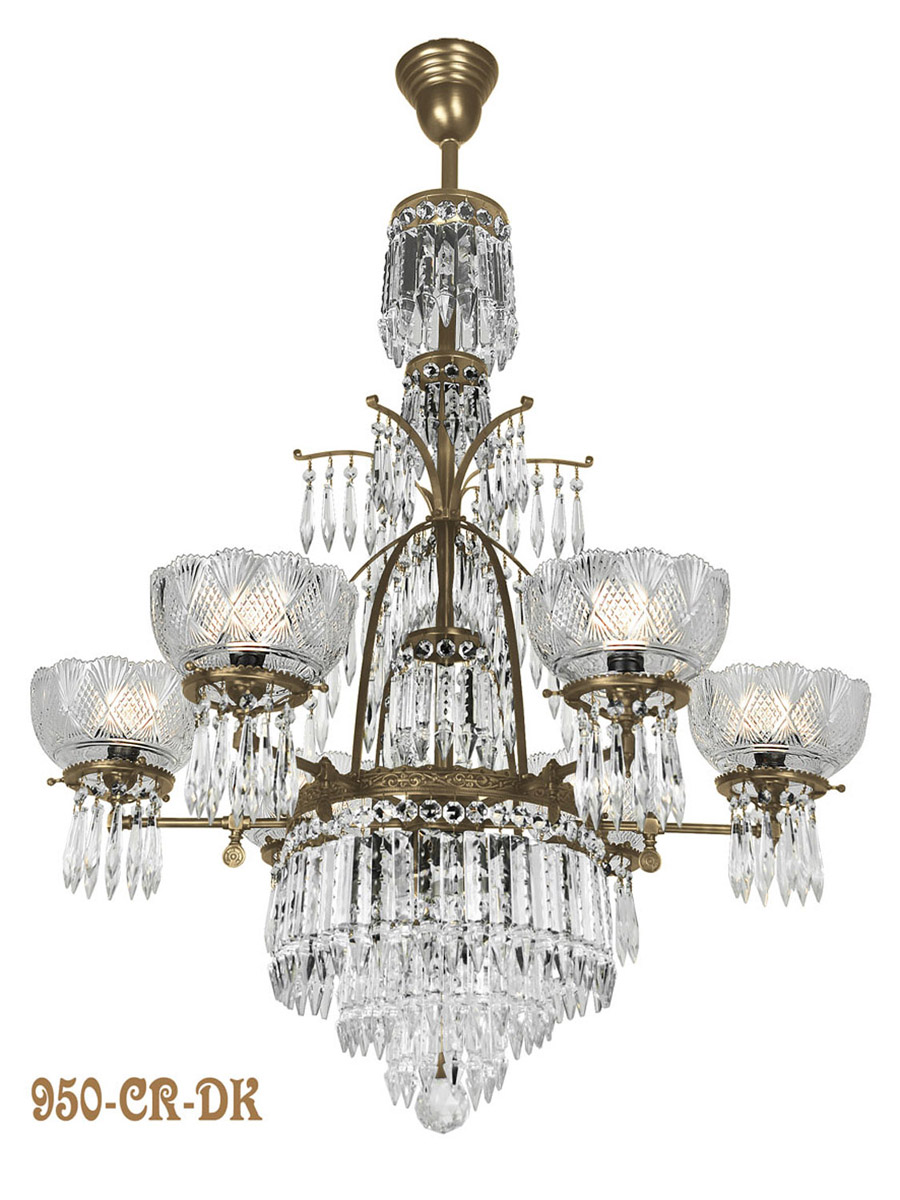 Rather than just being some thrown together crystal chandelier with no history (like others on the market), ours is a documented gas chandelier made about 1870 by the high end manufacturer Oxley-Giddings. Nice to have authenticity when carefully re-doing a fine Victorian home. We also offer this light in traditional polished brass.
This lovely piece sparkles like a jewel, appearing to be more than its 600 watts. Pair with one of our genuine plaster ceiling medallions for traditional Victorian style.
This spectacular double-tier crystal chandelier is a documented gas chandelier made about 1870 by Oxley-Giddings. O-G offered only the finest quality lead crystal, materials, and construction, making it THE choice of wealthy families around the world. In 2008 it was chosen for a historical restoration of the capital building in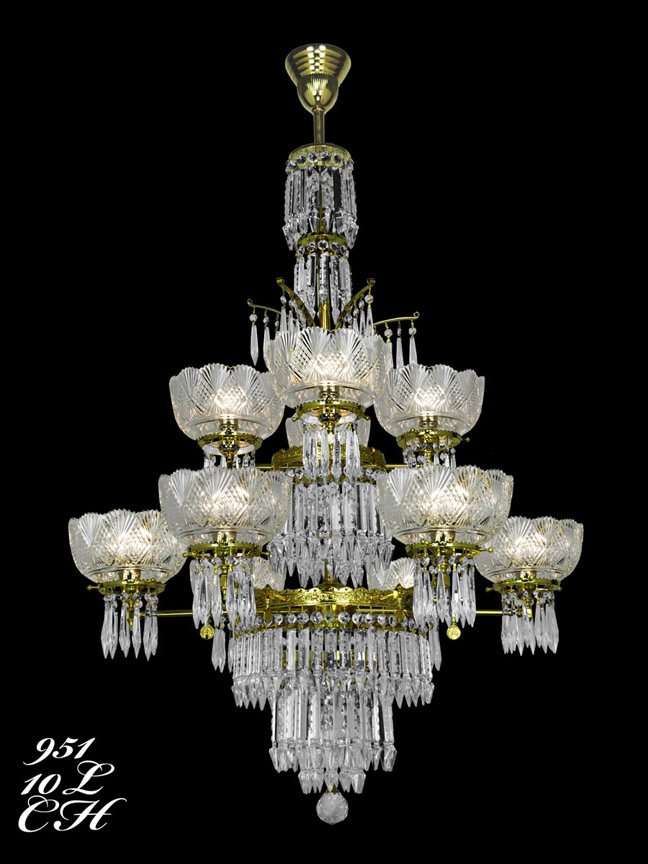 Washington, DC by the Architects of the Whitehouse.
If 51" is too tall we can adjust by deducting one or two of the two optional top tiers of crystals to get it as short as 40". Or, we can make it anywhere between these two heights but will take some adaptation and perhaps moving crystals around. Lengthening is also possible for a small additional charge.
As a later Victorian light, it has the larger 4" glass shade fitters. Shades are sold separately. Any 4" fitter shade can be used, even antiques. But, we recommend the oakleaf crown shade we created. The only properly made crown shade made in the world today. Wonderfully hand blown, etched and hand cut like the antiques. Also see our genuine cut glass lead crystal gas light shade . When you see the beauty of light through this shade, you'll understand the higher cost. Wheel cut (by hand) glass shades. Yes, there is not a much finer ambience for antique lighting, than wheel cut glass shades.
See our entire selection of high quality reproduction lead crystal prism lighting at Vintagehardware.com