You've never seen anything like it!

This large Victorian Rococo Chandelier is our newest neo-rococo creation from the Mid‑Victorian gasolier era. Early American Rococo gas lighting fixtures are very rare nowadays.
There are only 5 catalogs that are known to have existed between 1840 and 1870. We have been fortunate enough to to find no less than 8 Starr, Fellows .
We recast from these original fixtures for a completely accurate reproduction. We believe we have engineered a truly fine lighting fixture, based on historical record, ready to grace the lobby or dining room of an up‑scale mansion or five star hotels.
This Rococo reproduction has 30 arms on three tiers with a diameter of 68" for a total of 30 lights. The height of the "body only" is approximately 64" before the stem is added. Adding the stem, with the lovely stem 3 cupid decor section (see photo below), gives the standard height at 100".
The arms on the bottom tier are larger in scale than those on top, for a beautifully proportioned effect. Used singly, in pairs, or in series, these lights will not be overpowered by large rooms as other smaller fixtures probably would be.
Finishes available: Polished brass, Satin Brass, Hi/lo antique brass, Oil rubbed bronze finish. The photos show the Hi Lo Antique Brass finish.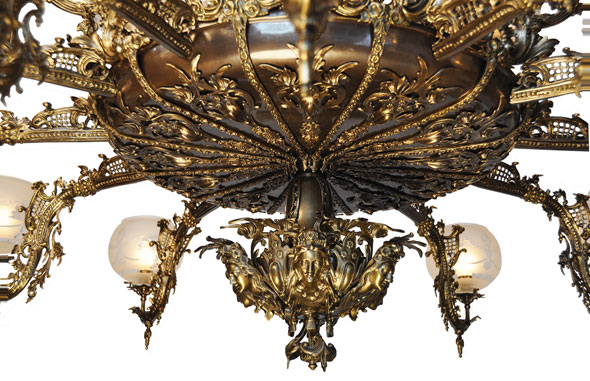 Each decorative casting is made by the Lost Wax Casting process. This is the same process used by jewelry makers. Because this is a very precise casting method, the castings are simply lovely.
We have been making Neo-Rococo recreated gasolier chandeliers for about 20 years. We have placed them in the United States White House and many other important locations. When you consider us, experience and a special level of historical expertise are unmatched.

On the largest bowl, for the bottom tier, there are 6 cast full figures. These figures are seen from a 2nd floor walkway when the fixture is hung eye level with the bottom tier or slightly below. The very bottom bowl is a plethora of female masks and floral decor. The center stem has 3 part flowers hanging like the sunken gardens of fame. Each arm is curvilinear with a floral leaf fitter to hold the shade.
The canopy is a lovely beginning poin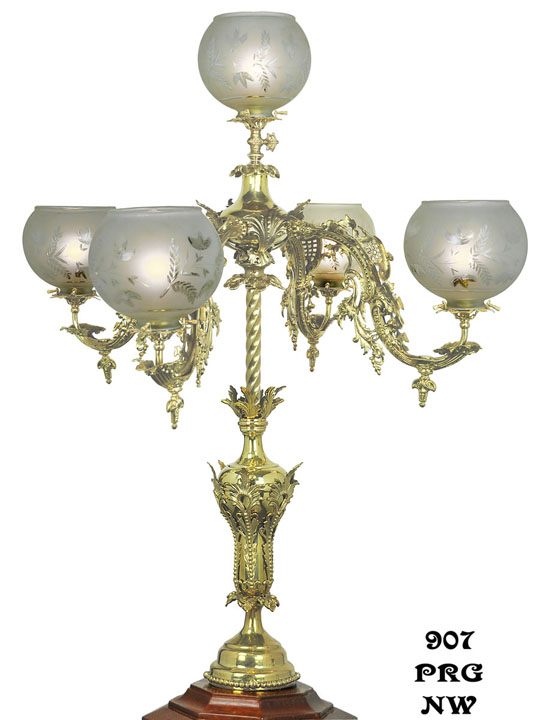 t with mythological masks and stylized floral decor. The center stem contains a design element surmounted by three gods of the harvest. Every space seems to be covered with neo-rococo decor while being totally functional.
Shade Fitter size is 2 5/8" for old gasolier type shades, of which we make six glass shade designs in two sizes. Our glass shades are blown into antique molds, then the details are hand cut. The fine quality lead crystal glass shades give the perfect ambiance to a vintage gas light .
We have also recreated these gorgeous Rococo Newel posts and sconces. Newel posts are a beautiful addition to any stairway or entry, all of our three Rococo newel post lights match our 900-series Starr, Fellows ceiling lights. Our sconces are made out of heavy solid brass, compared to Starr & Fellows' later, thinner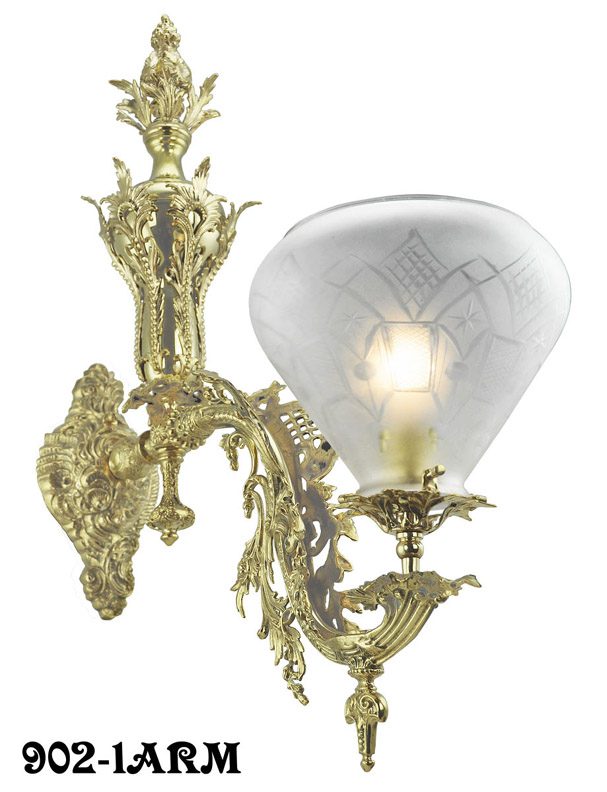 lights. Our recasting is from the heavier fixture. Breath-taking results occur when using this Rococo suite together.